Favorite Recipes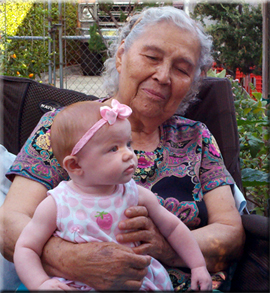 Matriarch, Lucila Granados and London Rose, her great grand daughter.
This is one of our most cherished and sought after family recipes.

Grandma Lucy's Tamale Pie

"The Granados Family Recipe"
5 lb. bag of Masa Harina (Corn-flour) Start w/ ½ bag first and add corn-flour throughout.

You judge. I made 9 pies using a full 5 lbs. in meat loaf pans.
Ingedients:
4 8 oz. cans of whole kernel corn and 2 8 oz. cans of creamed corn
4 8 oz. cans of chicken broth (add more as needed)

6 medium-sized zucchinis, sliced or scraped
2 8 oz.cans Ortega green chiles, chopped.
4 large Spanish Onions "raspados" (scraped)
4 lbs of Monterey jack cheese, shredded
Salt to taste, 1 lb. of butter.
Canned Jalapenos to taste. Mucho mas is better!
4 tbs. mashed garlic, or to taste.
1 6 oz. can of pitted large Spanish Olives.
Mix corn flour with cans of broth. If needed, add water.
Work the masa until the masa floats or nearly floats. It should be light and fluffy. Add the butter.
Heat the comal and flick a tiny piece of masa onto the griddle, cooking it.

Taste-test the masa until it has enough salt. Drink an ice-cold Corona.
I use a Cuisineart food processor for grating, it gives a nice texture, and it is fast.

Add grated zucchini's, grated onion, garlic, corn, olives, ½ of the cheese, and the green chiles to the masa.

Grease bottoms and sides of the pans. Fill the pans 1/3 to ½ way with the masa then add

a layer of green chiles and/or jalapenos w/juice and carrots, etc. Add a layer of shredded cheese,

then put the remaining masa as a top layer. Add more sprinkled cheese on top.
PREHEAT oven to 450.
Put the pies in, placing the foil lightly on top of the pies without tucking them. When the pies start bubbling,

lower heat to 350.Cook on bottom shelf for one hour then finish cooking on top shelf for an hour.

Keep covered lightly with foil while cooking. Brown the last 10 minutes, uncovered.

If using glass or metal meatloaf pans, it should take about 2 hours total baking time.
Note: If making chicken broth, place a whole chicken in a large pot and cover with water. Bring to boil,

then simmer 1-2 hours on low. Remove chicken and de-bone meat and set it aside.
Strain broth and reserve for making the masa. If you want to make a "chicken tamale pie",

add shredded meat to pie filling layers. I spice-up the chicken with garlic,

oregano, ground dried chiles, and some chopped fresh hot pepper pods.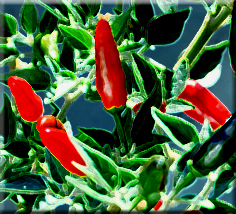 Grandma Lucy's Frijoles de Olla (pinto beans)
Fill a 6 qt. pot 1/3 full of pinto beans. Rinse, then fill to about ½ inch from top with water
and bring to a boil. Lower the heat to a simmer and cook for about 3 hours,
adding water as necessary. When beans are tender, add approximately ½ cup olive oil
and 1/3 cup chopped garlic. Add salt to taste. Fresh kettle beans can be served with some,
or all, of these toppings; chopped onions, fresh salsa, jack cheese, sour cream, chile pepper, etc.


Grandma Lucy's Frijoles Refritos (refried beans)
In a large frying pan heat some lard or olive oil over medium-high heat.
I throw in some minced garlic for extra flavor. Add your kettle beans and heat until bubbly.
Lower heat to simmer,and mash beans until you reach the desired texture.
Serve topped with a little cheese and salsa.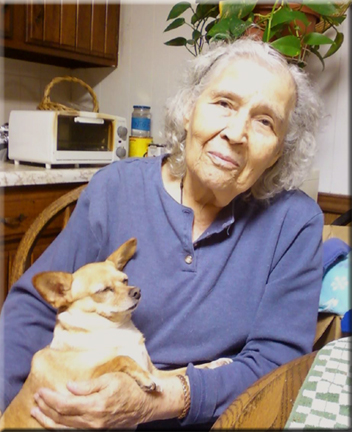 Grandma Lucy's Barbequed Carne Asada
Ingredients: Angus Beef Skirt steak, crushed fresh garlic, Fresh lemons, salt,
and pepper (chopped fresh chile or dried chile flakes can also be used).
Cut meat into desired steak sizes and smother with garlic, lemon juice, and pepper.
Cover in container and marinade for a minimum of 3 hours.
Cook over coals to desired wellness. Salt to taste. Serve with kettle beans, salsa and tortillas.

Grandma Lucy's home-made chorizo
Ingredients:
3 ½ tsp salt
2 tsp cumin
1 ½ tsp sugar
8 Tbsp Chile powder
4-6 cloves garlic or 2-3 tsp garlic powder
2 Tbsp oregano
¼ tsp ground cloves
1 tsp cilantro, more if using fresh chopped
6 Tbsp cider or wine vinegar
2 ½Tbsp water
Mix with 2 lbs lean ground beef. Let sit 2days in fridge.
Mom usually cooks entire amount and adds it to each pan of beans for the
week.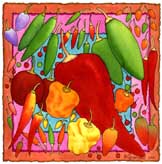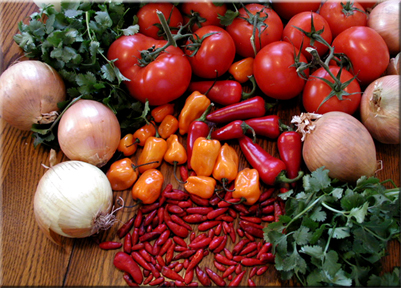 Before...
Salsa Fresca
Ingredients: Fresh chili peppers; 8 jalapenos/serranos combo, or 7 habaneros or whatever
you can get. I love using Chile-Tepin, Thais, Guatemalan Chiltepes, Scotch Bonnets, and
bhut jolokia (ghost peppers). These are flavorful and really hot.one bunch cilantro (coriander),
remove stems, 3 Brown or Spanish Onions, 8-10 ripe tomatoes, 1 1/2 tablespoons minced
or mashed garlic, and 1 tablespoon dry oregano.
A food processor works the best, as texture is very important. Chop up separately,
combining ingredients in a large bowl, stir, adding garlic and oregano.
This is a basic guideline, all steps and ingredient types subject to taste and availability.
Hint, a crushed New Mexico Chili pod or two adds flavor.If you're using fresh garlic cloves,
slightly brown them in a tiny bit of olive oil in a small sauté pan.
Live oregano is good too. Remove chili seeds and pulp to cut down flames, add peppers
gradually to avoid flame-out. Taste-test often, play "doctor ".
This fresh salsa is great any time. Try on omelettes, or in fresh pinto beans. (kettle beans) etc.
After...

Salsa Fresca Tropical
Ingredients: Hot peppers (Habanero, Scotch Bonnet, or Bhut Jolokia "Ghost Peppers")
4 mangoes, 1 medium papaya, 1-2 medium-sized red onions, 2 tbs. chopped garlic, ½ tsp oregano.
Peel and chop mangoes and papaya. Dice red onion(s).
Add garlic and oregano. Combine in bowl. Finely chop chile peppers and add to taste.
This mixture can be blended, chopped in a food processor or just stirred up.
This mixture can also be reduced over low heat then chilled and served as tropical chile paste.
This salsa is great with barbequed salmon, dorado, yellowtail, chicken, etc.
It is also really great with chips.
CAUTION
in case of "reburn" try "Mexican Whitewater Rafting" i.e. lifting toilet seat up

and sitting in the bowl. Note; Two flushes is the Sacramento River ,
1 flush, Rio Grande…..etc. You can also go around asking if anybody…...
"needs any welding done."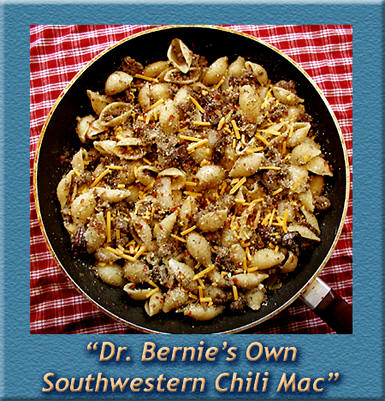 Ingredients:
1 1/4 lb. ground venison or other extra-lean beef, 1 cup water,
2 cups large pasta shells, 1 heaping tbs. mashed or minced garlic,
1 tsp. dried oregano, level tsp. lemon pepper, garlic salt (to taste)
1 cup chopped or sliced Brown or Spanish Onions, 1 tbs. (or to taste) crushed Red Chili pods,
5 tbs. grated Romano or Parmesan Cheese, 1 tbs California or New Mexico Chili powder,
1 medium-sized tomato, 1 dash extra-virgin Olive Oil, and 1 pinch of salt.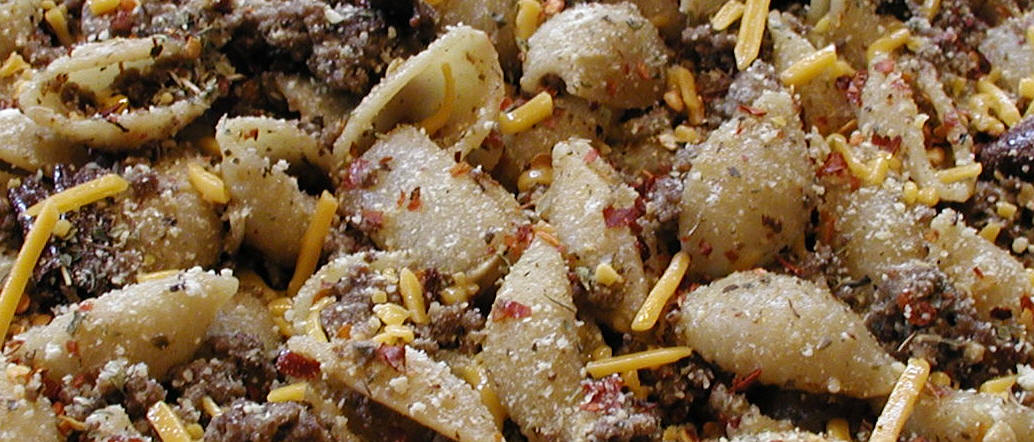 Brown the beef in a large frying pan; drain off oil. add and stir in...
crushed garlic, onions, oregano, lemon pepper, and garlic salt.
simmer 5 minutes, then add water and crushed Red Chili and chili powder.
Simmer on low heat , for about 15-20 minutes, stirring often. While all this is going on, boil
water in a medium saucepan, add olive oil and salt, dump in pasta shells
and cook for 10-15 minutes or until the texture is "just-right"...
drain and dump pasta into meat mixture and stir in until the shells start to fill.
Just before serving, stir in Romano or Parmesan Cheese.
You can garnish with a little grated Jack or Cheddar Cheese melted on top.
A little sprinkle of crushed Red Chile looks good too.

Chato's Southwest Chili con Carne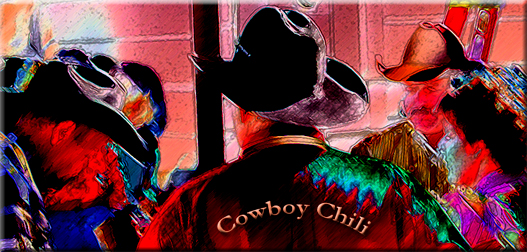 Ingredients:
2 lbs. angus stewing beef, 1 lb. angus ground sirloin, 4 brown onions, 2-4 medium
sized tomatoes or 1 8 oz. can of stewed tomatoes, 4 tbs. chopped garlic, 2 tbs. oregano,
3 tsp. cumin, 2tbs. paprika, 1tsp. white sage, 1 tsp. curry powder, 2 8 oz. cans tomato sauce, 2
8 oz. cans of red kidney beans, 1 cup masa harina (corn flour), and 2 cups water.
For heat: 3 tsp. red chile powder, 2 tsp. chile flakes, and 3 fresh chiles.
In a 6 qt. saucepan, brown the beef over medium-high heat. As the meat begins to brown,
add 2 chopped onions, tomato sauce and tomatoes. Reduce heat to simmer.
Add garlic, oregano, cumin, paprika, sage, and curry powder. In a separate bowl,
mix masa harina with cold water until there are no lumps, then stir in to mixture.
Add chili powder and dried chili flakes (to taste). Simmer for approximately 2 hours,
stirring and adding water when necessary, then add 1 chopped onion and diced fresh chili pods.
Simmer approximately 20 more minutes and serve.
Serving suggestions; dice up the last onion and use for topping.
You can also add grated cheese and oyster or saltine crackers.
I first prepared this dish at LACFD's station 11 in 1974, while doing my paramedic
field internship. The engineer, John Tapp, got the runs and still came back for more.
What a man!

Beef Burrito; "Chile con Carne y Papas"
Ingredients: 1 lb. of ground buffalo or ground angus sirloin, 2 medium brown onions
(chopped), 3-6 hot pepper pods, 4 tbs. chopped garlic cloves, 2 medium potatoes (cubed),
salt (to taste), 1tsp. oregano, ½ tsp. cumin, ½ cup of cilantro, ¾ cup shredded
jack cheese, 1 pkg. large flour tortillas, and 1tsp. red chile powder.
Directions: In a large cold frying pan, put 4 tbs. olive oil, and add the potatoes.
Turn on fire and start cooking over medium heat, stirring often. In another large
frying pan, start browning the meat over medium high heat. Add first onion, garlic,
oregano, cumin, and chile powder. As soon as the meat browns, lower heat and add
chili pepper and salt to taste. Cook on low for about 20 minutes. By this time, the potatoes
should be lightly browned. Combine the contents of both pans, mix and turn off heat.
Heat tortillas on griddle and fill with mixture, some onions, some cheese,
and some cilantro. Add salsa if desired. Roll up and enjoy. This mixture can also be
served on a plate with beans and rice and eaten with corn tortillas as "bocaditos" (little bites)