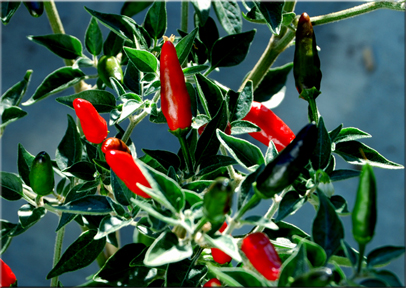 This site is for the lovers of all things PIQUANT. It features recipes, history, lore, links, art, photography, gardening, and more.....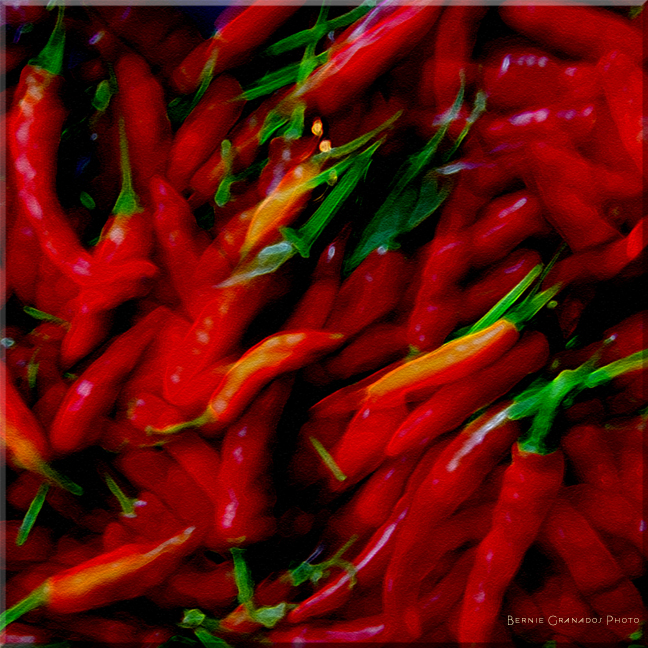 It's peak season, people! The chile crops are ripening. There is an abundance of fresh, local ingredients.
This is the time to dive in and bask in the beautiful world of fiery foods.

These pages are here to inspire you to that quest, which, by the way, has innumerable health benefits as well as a class-A enjoyment factor.
Come on in, the heat is fine here..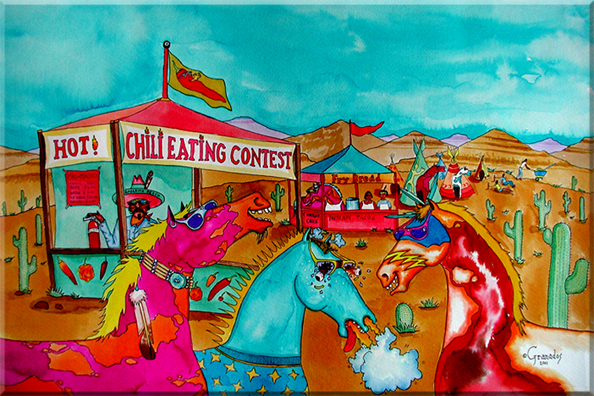 "El Enchilado" original watercolor

Hottest Peppers and Respective Scoville Heat Units:
5,300,000 Police grade Pepper spray

2,100,000 Carolina Reaper

1,200,000 Scorpion pepper
1,001,304 Naga-Bih Jolokia pepper
855,000 (reported) The Naga Jolokia pepper (Capsicum frutescens)
350,000-577,000 Red Savina habanero (Capsicum chinense Jacquin)
100,000 - 350,000 Habanero (Capsicum chinense Jacquin)
100,000 - 325,000 Scotch bonnet (Capsicum chinense)
100,000 - 225,000 Birds Eye pepper
100,000 - 200,000 Jamaican Hot pepper
100,000 - 125,000 Carolina Cayenne pepper
95,000 - 110,000 Bahamian pepper
85,000 - 115,000 Tabiche pepper
75,000 - 80,000 Red Amazon Pepper
50,000 - 100,000 Thai pepper (Capsicum annuum)
50,000 - 100,000 Chiltepin pepper
40,000 - 58,000 Piquin pepper
40,000 - 50,000 Super Chile pepper
40,000 - 50,000 Santaka pepper
30,000 - 50,000 Cayenne pepper (Capsicum baccatum

and Capsicum frutescens)
30,000 - 50,000 Tabasco pepper (Capsicum frutescens)
15,000 - 30,000 de Arbol pepper
12,000 - 30,000 Manzano pepper